About Us
The team at Shark Experience have been specialising in Shark cage diving and sightseeing tours in the Foveaux Strait out of Bluff, for the last nine years.
Following changes to the interpretation of the Wildlife Act 1953 in 2018, we decided to continue with a NO INCENTIVE BAIT POLICY for our tours and to challenge the new laws that potentially impact all New Zealanders from interacting with our native, protected wildlife. 
Our crew are committed to providing education, protection and the promotion of our special marine environment. We are purely a business that offers the opportunity to clients to interact with the natural world.  
We also really love Sharks.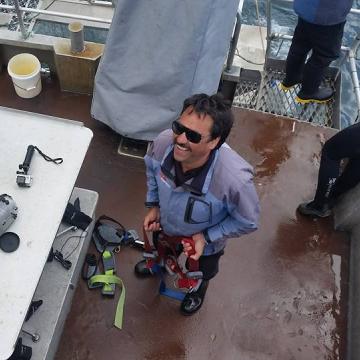 I'm Mike and I have been diving this region for nearly 30 years, having been born and bred down here. I have an intimate knowledge of this region and can take you to some of the best sights that Southland seas have to offer. I had a couple of Great Whites approach me on a dive a number of years ago and ever since then I've had a fascination with these awesome creatures.
Mike's qualifications and skills:
Skipper - 15 years
Dive Instructor - 25 years
Commercial diver - 23 years
Shark Guy - Ten years
About the Sharks
Great White Shark of New Zealand

Great white sharks (Carcharodon carcharias), also known as white pointers, have been fully protected in New Zealand since 1 April 2007.
As one of the world's hotspots for great white sharks, this protection is an important step towards reducing threats to this globally vulnerable species, which is in decline throughout the world.
The Department of Conservation is currently working alongside New Zealand and international scientists to learn more about this little-known species in the hope that this information will further aid conservation efforts.
White sharks are between 1-1.5 m long and 21-32 kg at birth. Females grow to at least 6.4 metres, while the males are no lightweights at 5.5 metres maximum length. Several large females estimated to be between 6.7 and 7 metres long have been landed, and while it is difficult to weigh such large animals two reportedly tipped the scales at a massive two and a half tonnes!
Great white sharks are apex predators - at the top of the food chain. Their diet includes a variety of bony fish, sharks, rays, penguins and marine mammals. In New Zealand a relatively large proportion of the diets of sharks over 2.5 metres long consists of New Zealand fur seals. White sharks also commonly scavenge whale carcasses.
Great white sharks can reach great speeds when in pursuit of prey and leap clear of the water. They also cover vast distances of ocean. A shark tagged in New Zealand travelled over 1000 kilometres in just one week.
Common sense dictates that any large shark should be treated with respect. As a general rule any shark over 1.8 m long, regardless of species, should be treated as potentially dangerous. Fortunately, shark attack, particularly one involving serious injury is very rare in New Zealand.
The Department of Conservation administers protection under the Wildlife Act 1953, and is the New Zealand CITES authority.
Shark Cage Diving "No Shark Sighting Policy" with Shark Experience

Your shark experience relies on the cooperation of an unpredictable, magnificent wild animal.  None of the animals we deal with are trained.   When dealing with any natural event or animal, there are no guarantees.  Shark Experience follows strict government-imposed guidelines when dealing with sharks and our staff are trained to adhere to these guidelines.  Our crew will do everything it can to provide you with a Shark Experience within these guidelines.
Valid for Shark Cage Dive bookings made between - 1 October 2012 to 6 October 2018.  In the rare event that you do not get to see a shark, as a Shark Cage Diver and Sightseer, you will be offered a Return Trip Voucher.   This voucher is valid for 365 days and is not transferable to any other person.
If, on your second trip as a Shark Cage Diver, using a Return Trip Voucher, if no sharks are sighted, a new Return Trip voucher will be issued for a third trip, valid for 365 days.
If, on your third trip as a Shark Cage Diver, using a Return Trip Voucher, if no sharks are sighted, no further Return Trip voucher will be issued.
Sightseeing passengers will receive one single Return Trip Voucher only.
Return Trip Vouchers cannot be transferred into another person's name
Vouchers are not redeemable for cash.
Vouchers are valid for a period of 365 days from the date of issue.
Extensions may be granted in extenuating circumstances by contacting our office prior to the voucher expiry.
Valid for all tour bookings made after 6 October 2018: 
Due to changes in the interpretation of the Wildlife Act 1953 in relation to Shark Cage Diving and activities that relate to protected wildlife, Shark Experience can no longer extend any guarantee for sightings.  No refund will be issued and no Return Trip Voucher will be provided if your desired Big Fish is not sighted on the day of your tour
Please see our sales staff to discuss discounted rates for multi day bookings.   Ps. We hope the law changes soon!
Please check out our Terms and Conditions to find out more about our Cancellation, Refund and Booking Terms.